Laser Labels UK
Electric Semi Automatic Label Applicators
The simple, economical solution to Label Application. A range of Semi-Automatic label applicators, which are robust, require minimal maintenance, and are covered by a full warranty against manufacturing defects.
---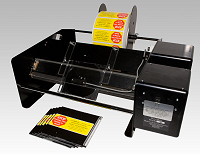 Flex-Matic
The Flex-Matic has been developed to accurately apply labels to a wide range of flat products including Bags, Envelopes, Pamphlets, PCB's etc. up to a maximum thickness of 4mm.
It is easily set to position the labels horizontally and vertically on the products (minimum of 22mm from the leading edge vertically.)
It is possible to apply labels to continuous media providing a cut out is included to activate the feed sensor.
Most self adhesive materials can be applied including polymers and book labels but we always recommend testing them before purchase.
Weight: 18 Kgs
Dimensions – 550mm x 430mm x 200mm

See Video
---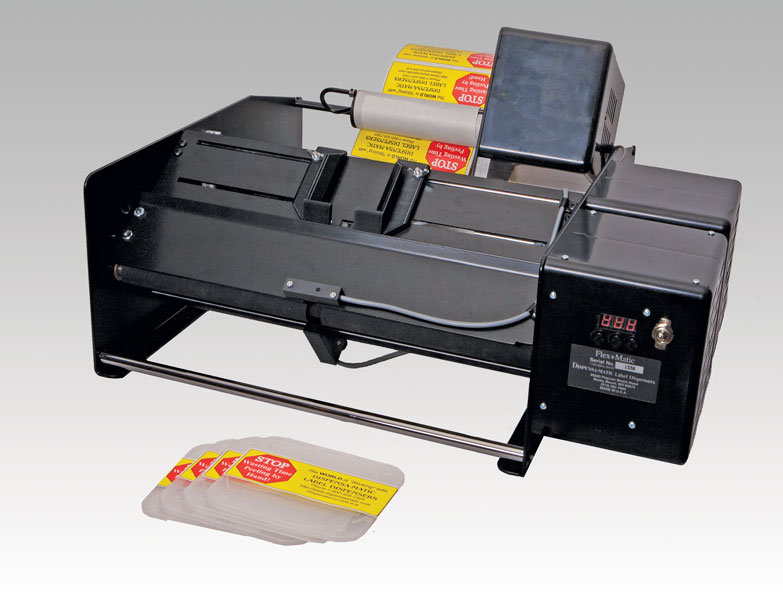 Flex-Matic OS

Optical Sensing
Included Add Ons:
Waste Rewind Unit – This automatically rewinds the waste paper that is produced after labeling
Counter – The counter allows you to see how many product have been labelled
The standard Optical Sensor is for opaque labels only, if labelling transparent labels a black registration mark will be required and an optional "black line" sensor fitted (special order lead time)
Weight:18kg
Dimensions: 550 x 430 x 200 mm
---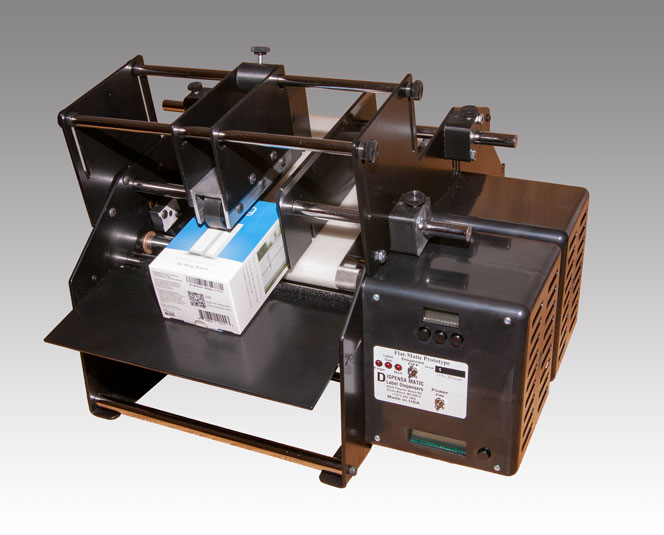 Flat-Matic
The Flat-Matic is the latest addition to the Dispensa-Matic range of Label Dispensers and Applicators designed to label flat and curved sided containers including square bottles, boxes, oval bottles, flasks and many other odd shaped containers.
It is available in two widths, 6" (152mm) and 12" (305mm).
With the standard "no adjust or clean" optical sensor most self adhesive materials can be applied but for transparent labels an optional "black dot" sensor is available on request with special order lead time.
We recommend testing all labels and containers before purchase.
Weight: 28 Kgs
Dimensions – 640mm x 580mm x 330mm

See Video
---